Users browsing this thread: 1 Guest(s)
My first sprite: Neidhart from Romancing SaGa
This is actually one of the first sprites i created. His side poses came from Romancing SaGa, but i created the front and back ones by using Edgar as a base. He use a custom palette.
It's quite nice for a 1st sprite, most definitely. The only thing I see that could look better is that the colors are too soft, compared to other sprites. It looks almost like it's going transparent. I'd say darken them all (more saturation) including the outline and it will help a lot. Unless you were planning to make all the sprites a uniformly soft-palette-looking style, but I think darker is best, it pops more.
---
We are born, live, die and then do the same thing over again.
I was going to say the same thing. Not all colors need to be darker but at least the outline and what makes the hair outline and armor inner outline / composition too (all this look the same color at first glance).
Thanks for your feedback; i think i can explain the palette choice. Honestly i finished the sprite  long time ago(last summer) and during the time i was fixing it a bit before the release i didn't notice his lighter outline(most of his palette was retained from the original RS battle sprites, minus some colours) . Infact the Romancing Saga's battle sprites have a lighter outline than the ffvi one. In conclusion, i'll post soon a new version of the sprite with a darker outline(and maybe the outfit colours).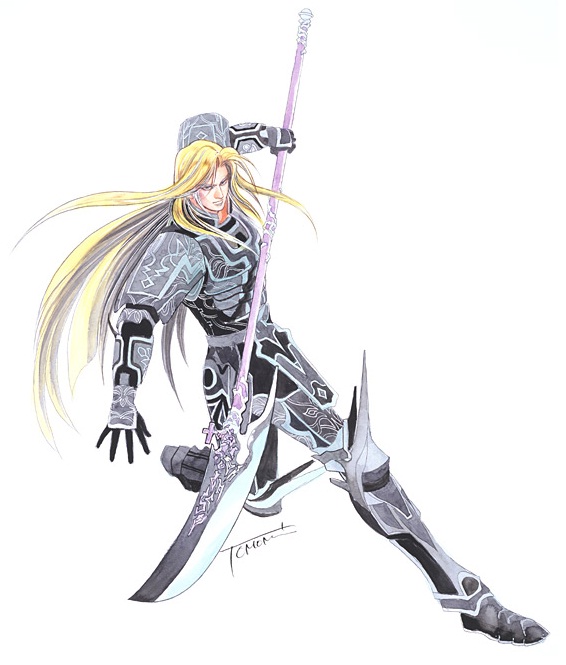 Is this the guy? I'm unfamiliar with Romancing Saga - I think you can pull it off with pallete 0 - using the purplish-blue/light blue/dark grey for the armor - and the two tones of yellow for the hair - you can remove an eye pixel to make him look more mature - use dark blue for the eyes
You can import Cyan pallete to make a cape-less one if you want and use Setzer's face and hair for reference
Cheers!
---
Remember to use Omnislash in Remake
Users browsing this thread: 1 Guest(s)