Okay so this is another sprite that was originaly started for my rpgmaker game another original character for yall, taken me awhile to finish it due to time restraints and college.. hope you guys dig would be a great replacement for setzer
Sprite:
Portrait:
---
The only limit is imagination. And 16 colors.. I guess 


I like how you put the cash on the tent, it looks very nice.
---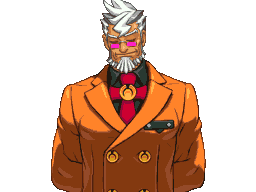 This is me, giving you the evil stare.
OmegaWeaponV5 the evil starer.
Welcome to FFFW! (Final Fantasy Far West)

Very nice sprite!
Really love your sprite! hahaha he really have a big personality.

Just one thing, something is wrong when you see him walking (rear view) the left arm disapear
OmegaWeaponV5, thanks gald you like it
Madsiur, haha thanks i tried making him look somewhat like wild west poker player. think it works pretty well when he has cards equiped or thrown
Astaroth, thanks man glad u like him, well spotted lol iv changed it to the one im using atm let me know if it works
---
The only limit is imagination. And 16 colors.. I guess 


Cool, always wanted a Cowboy sprite, even though he is a gambler, still like the wild west theme.
Thanks im glad u like him, heres what i based him from:
---
The only limit is imagination. And 16 colors.. I guess 


awesome
---
"Sometimes ninjas do wrong to each other, and in dat way the force of tha earf' comes around da moon - and at that presence, da dirt, it overshadows the grass, so you're like, I can't cut dis grass, there's no sun comin' through. So in order to enable each other the two fruits have to look each other in da eye and understand we can only be right, as da ripe is wrong, you know what I mean?"

-HNIC
thanks guys
---
The only limit is imagination. And 16 colors.. I guess 


Users browsing this thread: 1 Guest(s)