A little bit of both, perhaps. As an example... If I remember right, Cyan's is a sword? In that case, the sword could be the one he picks up at the end of his dream sequence. Others could be side quest rewards.
---
"The doom and gloom is justified.
A couple of people are going to die.
Even though you can turn back the time,
you're always a moment too late!"
Ran into a couple of issues on the Trophy Room.
Max NPC Limit:
(Gonna have to play - FF6: Agent 47 to fix this issue first.)
Space:
I've already remodeled both airships all I could to get the cargo bay. Was gonna do a hallway type thing on the Map: Blackjack backroom, has a sliver of space it would fit but not enough space to save.
SO, this is getting added to the "Operation: Doma Reborn" project. Should have plenty of space there. As for the NPC problem, will still have to... dispose, of some NPC across the world. I haven't checked into it but I'm planning on stealing some NPC bits from the WoB (Other than what I'm using in the Airship), temp set them for the Doma Castle dying event, then reset to normal status during the Phantom Train, then clearing them on Solitary Island, THEN resetting them as recruitment/restoration is complete. Again, thats the next project though. Just writing the idea down before I forget.
As for THIS project, well, I'm not a fan of spamming pictures but,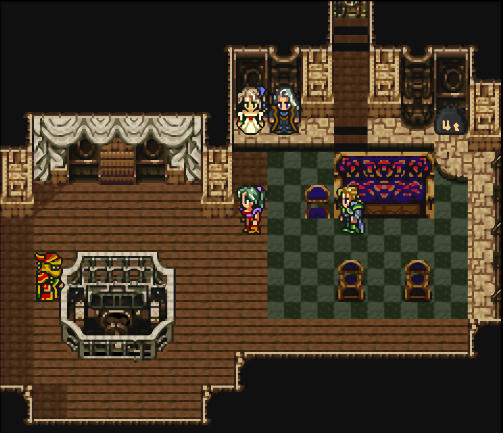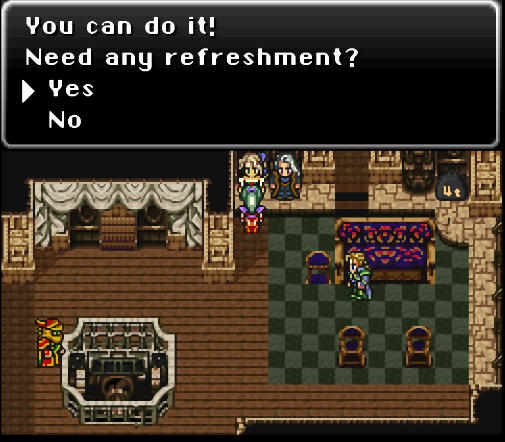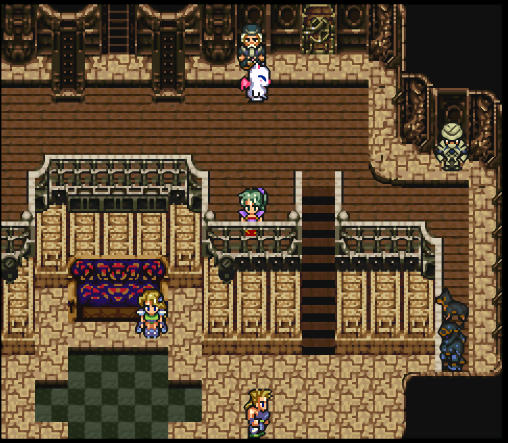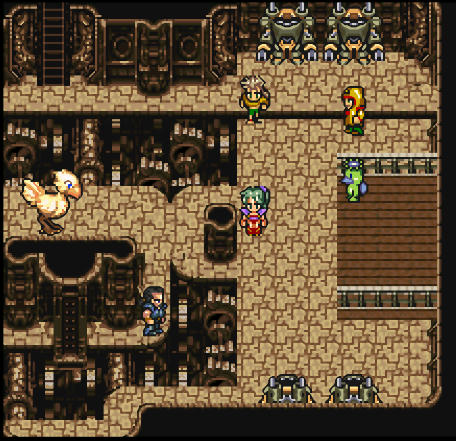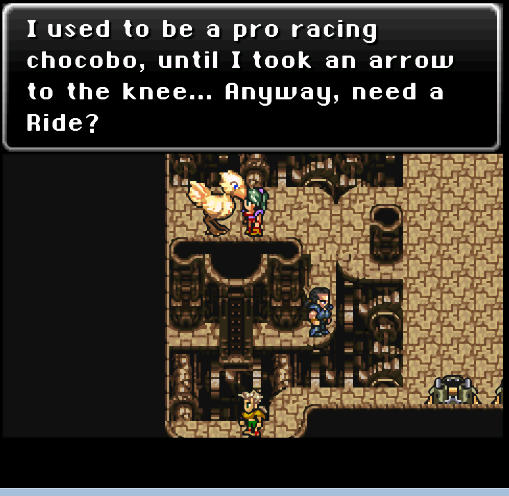 I'm not saying its a fantastic layout, specially the Cargo Bay (Just doesn't seem to "flow"). But thats what I've got. Next up, the quest for recruitments.
What can I say, I never wss a fan of the "arrow to the knee" but I couldnt get it out of my head.
---
The only true wisdom is knowing you know nothing.
Everything about this is pretty cool...except for the arrow to the knee joke! :O

But yeah, I'll be interested to see how it turns out.
---
Moogles FTW
Looks awesome, keep up with the good work!
---
"I'll kill someone you love, because he killed someone I love." Profound? Or Psychotic? Take your pick.
I have an idea for a trophy. How about the 1 million GP that Baram and Clyde stole? There was a lot of speculation back in the day, about whether it was possible to find their treasure somewhere in the Phantom Forest. Of course, it would just be a chest full of GP that is unspendable... sort of like the "Wad of Bills" from Earthbound.
I didn't knew what the arrow to the knee joke was, until i took an arrow to the knee!
nah, until i searched on web the meme and find out it was related to Skyrim(well... i'm not a fan of Skyrim...)
Btw only the hallroom you mentioned gonna be moved in the other project, right?
How much is the limit of NPCs in a room, anyway?
PS. nice one for Shadow's treasure
Pretty much the whole treasure room, even if I could get a hallway to save, I dont see any way to add a room big enough to do justice to a treasure/trophy room. Might still work in a trinket or two but the way that idea exploded it just out grew the space of an airship room. Doing something like that in Doma castle on the other hand should leave plenty of room for everything to look good.

As for Shadow and the money, based on all the ideas I keep wanting to lean toward working it more like a medal system for doing the character's make ammends/tie loose ends before the suicide mission type deal.
Like Cyan's dream, Locke and his dead girlfriend, Edgar and saving Figaro, Sabin's bumrush final training, Gau's father, Terra's town full of orphans, Relm's painting, strago's hidon, etc. Some like Umaro and Gogo that are just there for the ride would be a treasure momento hunt.
As for Shadow, the stolen gold or an empty money bag would be a good momento for saying he's come to terms with his life but the way his story is told kinda makes it difficult. Its gonna require additional story. I know Ive seen several post with ideas on completing Shadow but dont remember ever seeing it happen.

As for NPC limits, I want to say the editor started getting pissy with me at about 23 in a room but maybe I was just tired. I got around the here by using the backroom from the Blackjack as part of the Falcon. Being on a junk map with no NPC let me move some PC over and kept the main room at a reasonable count. The problem I hit last was the global NPC limit. Already wacked a couple of the empire's guards from a town WoB to make room. Could kill off all the extra moogles in WoB to make room, or just random nobodies from everywhere. Point is, I'm sitting one NPC under the cap with a full crew, thats not counting any that have to be placed for recruitment in the world though.(One being for a suit of Magitek in Narsh, another big one being a instance or two of Maria). The rest is done either through script or already existing npc's so shouldnt be a large issue.

Right now I'm back in the auction house, setting it up to send the imp/choco to the airship. Then writing the auction for magitek suit and so on down the list. The airship is stocked and set, just the dialog and fun stuff of setting statuses. (I think I only added it to the original post but) another part of that (while I'm writing stuff to add statuses to characters) talking to intercepter (standing by shadow in pic) and choosing to "bring him along" to add the dogblock to lead lead character (optional of course). What I need is a story or excuse for HIM to be willing to do that. Course he'd do it if Shadow said to take care of them, but still want a story to explain trust guarding deal with someone other than shadow. Ideas?

Think I covered all the current stuff with that. I hope it did at least.
---
The only true wisdom is knowing you know nothing.
pretty cool man

honestly for the interceptor thing I'd say give it to Relm, I was planning on giving Relm the interceptor status as well but thats neither here or there lol

good work though its looking good

my suggestion for getting rid of some npc's take out a soldier or 2 in the bar in albrook if u haven't already, most of them say the same damn thing anyway lol

another thing you can do is take out a thief or 2 from zozo (the ones that all line up and go up the stairs)
---
"Sometimes ninjas do wrong to each other, and in dat way the force of tha earf' comes around da moon - and at that presence, da dirt, it overshadows the grass, so you're like, I can't cut dis grass, there's no sun comin' through. So in order to enable each other the two fruits have to look each other in da eye and understand we can only be right, as da ripe is wrong, you know what I mean?"

-HNIC
Actually I have some idea to complete Shadow, but i'll keep that stuff for my CotG hack, if you don't mind...
How 'bout Interceptor's quest? I don't know... a mixture between a treasure hunt(or searching for Interceptor, which disappears suddenly) and rescue him?
He'll search for something in 13 different places(related to each ally) and then you'll have to find him: if you go with more than one ally he'll hear you and run away;
when you find him, the char who found him cannot search him anymore, because he'll already know what type of tracks that char leaves, or something...
Quite messy as idea, huh?
Yeah that idea is a little big. Like I was saying, having him show up on the ship is kinda a must in this. Having him "recruitable" for the party leader is more just because I'll already be writing enough code for adding similar effects with the magitek and chocobo to get a nose bleed, why not one more for the dog? But going thi far already, eh something simple, might just require a dried meat offering if cant come up with a quick story. Although, could rescue him somehow. Maybe find him a cure for mad behemoth breath or something.

Soldiers in Albrook I havent looked at yet, but the theives in Zozo are a different story. I figured nobody would miss one brainless zombie so I took one out that said great people or some such. The old man behind the counter took off through the back wall then joined the walkers. And to top it off, what happens when old men climb stairs? Yeah he slowed the rest of them pups down resulting in a pile up every time.

I'm still kinda fond of Mass Moogle Genocide but I'm sure your right about there being plenty of extra mindless soldiers around.
---
The only true wisdom is knowing you know nothing.
Users browsing this thread: 1 Guest(s)