Users browsing this thread: 1 Guest(s)
Alphabetical Lore
Author: SilentEnigma
Version: 1.0
Released: 2022-08-29
Applies to: FF3us 1.0
Download
This patch sorts the Lore list in alphabetical order.
The implementation is roughly the same as @
assassin
's Alphabetical Rage patch.
There isn't much functional benefit here -- but if you are a user of Alphabetical Rage, you might be interested in tacking this one on as well for consistency.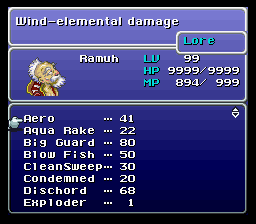 The following 6 users say Thank You to SilentEnigma for this post:
6 users say Thank You to SilentEnigma for this post
• C-Dude

(08-29-2022)

,

CVReynolds

(09-11-2022)

,

Gens

(08-30-2022)

,

Gi Nattak

(08-29-2022)

,

madsiur

(08-30-2022)

,

Warrax

(08-30-2022)
Users browsing this thread: 1 Guest(s)