Users browsing this thread: 1 Guest(s)
05-16-2020, 09:09 PM (This post was last modified: 10-24-2021, 08:08 PM by SilentEnigma.)
author: SilentEnigma
Download
This is a quality-of-life mod which allows the player to quit the game after the party is defeated.
The player is given a "Continue? Yes/No" prompt following the "defeated" animation. Selecting "No" triggers a return to the title sequence.
Three different patch variations / application methods are provided to help minimize conflicts with other hacks:
"Full": Applies the Optional Continue feature to an unmodified FF3us ROM.

"Base": Applies a partial implementation of the feature. Includes the new code modifications, but excludes the required dialog caption change.

"Base-CV": Similar to the "Base" variant, adapted for compatibility with C. V. Reynolds' Bug-Fix Compilation v1.16 - 1.25.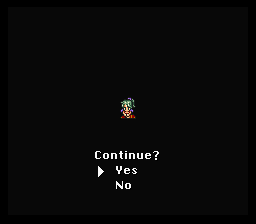 Note: This patch does NOT update the Save Point tutorial text (caption #1747).
Consider updating that caption manually in your own project to reflect the new feature.
Cheers!
OptionalContinue_v1.1.zip
(210.73 KB, 2 downloads)
The following 4 users say Thank You to SilentEnigma for this post:
4 users say Thank You to SilentEnigma for this post
•

Gi Nattak

(05-16-2020)

,

madsiur

(05-16-2020)

,

PowerPanda

(05-17-2020)

,

SSJ Rick

(05-17-2020)
Users browsing this thread: 1 Guest(s)