Users browsing this thread: 1 Guest(s)
09-13-2022, 01:21 PM (This post was last modified: 09-13-2022, 01:32 PM by SilentEnigma.)
Very cool @DrakeyC. I was especially curious about how you would deal with the shop menu and the coliseum menu.
A few suggestions...
Have you considered something like this for the coliseum?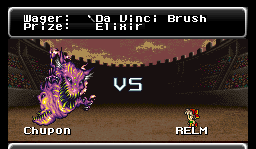 ...If you were to do it like that, you could keep the bottom portion as-vanilla.
Otherwise, you may want to consider pulling from this patch to shorten the top window:
https://www.ff6hacking.com/forums/thread-4196.html
Use-Item screen --
Any chance of moving the character name / cursor / status icons one tile to the right?

Instead of losing the portraits, consider implementing an abbreviation? (print the first few characters, then add an ellipsis if the name is too long)

A few months ago I was playing around with moving the character selection window the left and the item name to the right, but then the status icons would get hidden. Don't think there's any good way around that


Edit

: Crazy Idea: display character sprites in lieu of the portraits

Equip screen -- Perhaps nix the character name?
Shop -- Since "Own: " & "Use: " are in turquoise, it may look fine to use "Owned" and "Used " (no colon), even if it puts "Owned" directly adjacent to a numeral.
The following 1 user says Thank You to SilentEnigma for this post:
1 user says Thank You to SilentEnigma for this post
•

DrakeyC

(09-13-2022)
Users browsing this thread: 1 Guest(s)