Users browsing this thread: 1 Guest(s)
Small update: All the manual work done in the test monster can now be done in the editor: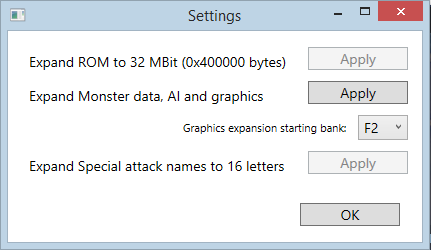 Instead of giving the choice to move all the data where you want, an option that is less user-friendly and that would have give me headaches to code, I decided to only give the option to decide where you want the graphics. All the other expanded data fits easily where the graphics originally were.
AI scripts are expanded to one bank (EA) and will be moved regardless if you already expanded them or not with FF3usME. Graphics also get an extra space of one bank. They can be moved starting from bank F2 (F0 is for expanded FF3usME dialogues and F1 for WOR/WOB maps expansion in FF6LE). Either you take this package or you code your own editor :P
I'm also including 16 letters special attack option like FF3usME, just to make sure my editor doesn't take anything away that was possible with FF3usME.
I will add support for exhirom later but now I'm moving to the monster graphic editor.
The following 2 users say Thank You to madsiur for this post:
2 users say Thank You to madsiur for this post
• Robo Jesus

(05-02-2015)

,

SSJ Rick

(04-27-2015)
Users browsing this thread: 1 Guest(s)